Yogi Bhajan (1929- 2004), Master of Kundalini Yoga and Mahan Tantric (Master of White Tantric Yoga), arrived in the United States in 1969 with one purpose:
"I have come to create teachers, not to gather disciples." ~ Yogi Bhajan
After his death in 2004, that purpose lives on not only through his Radiant Body but also through the Kundalini Research Institute's Aquarian Teacher International Teacher Training.
For more than 30 years he traveled internationally teaching Kundalini Yoga, the Yoga of Awareness. In 1969, he founded 3HO, the Healthy Happy Holy Organization, based on his first principle:
"Happiness is your birthright" ~ Yogi Bhajan
In 1971, he founded the Kundalini Research Institute with Gurucharan Singh Khalsa, PhD,  Director of Training emeritus. Through the years, Yogi Bhajan trained thousands of KRI Certified Kundalini Yoga Teachers and Trainers who now serve on every continent around the Globe.
In 1994, the International Kundalini Yoga Teachers Association (IKYTA) was formed to further spread these priceless Teachings through the united efforts of Kundalini Yoga teachers worldwide.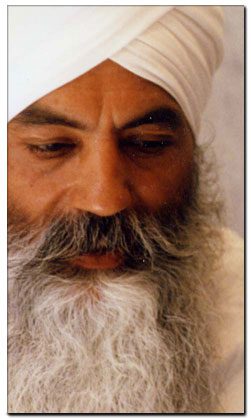 The Yogi Bhajan Library of Teachings along with you, his students and teachers, is the living legacy of this great master. Find out more at YogiBhajan.org
Students of Yogi Bhajan all around the globe are profoundly grateful for his kind and generous presence as a Teacher and his dedication to bringing this technology to the West. The Teachings of Yogi Bhajan and the technology of Kundalini Yoga have truly transformed the lives of so many and enabled them to not only experience peace and happiness but also to deliver that same gift to countless others.
---
Statement from the Legacy of Yogi Bhajan Non-profits: 
Our organizations stand united against abuse of power, sexual abuse, and any form of exploitation… [ Read Full Statement ]